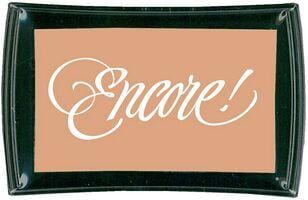 Free P&P within the UK for orders over £22
Ultimate Metallic Satin Rose Raised Ink Pad for Stamps.
Ideal for scrapbooking because it's the quickest-drying true metallic ink currently available.
Raised pad size 75mm x 45mm, Encore metallic inks provide marvellous results on both light and dark papers. Polished metallic colours add an elegant touch to paper crafts. The metallic powder in Encore creates a more "glittery" effect.
Colours may appear different / altered on light weight, uncoated papers, such as printer paper.
Application - Uncoated paper, Drying Time - 7 to 10 minutes on uncoated papers. Varies based on weight / type of paper, humidity, etc.