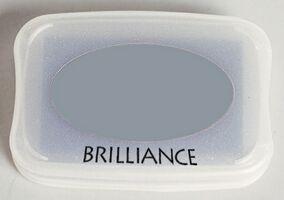 Free P&P within the UK for orders over £22
Starlite Silver Brilliance Ink Pad for Stamps.
96mm x 67mm.
Air dries on vellum and glossy papers.
Application - Uncoated paper, coated paper, vellum, photo, leather(tanned leather), cellophane, unpainted wood, polymer clay, shrink plastic, terracotta
Drying time - 10 - 15 minutes on uncoated paper. Drying time will increase on coated papers. Varies based on surface / material, humidity, etc.
High opacity ink works wonderfully on dark paper!
Replace inner plastic cover and cover after use. Exposure to air will cause the inkpad to dry out.