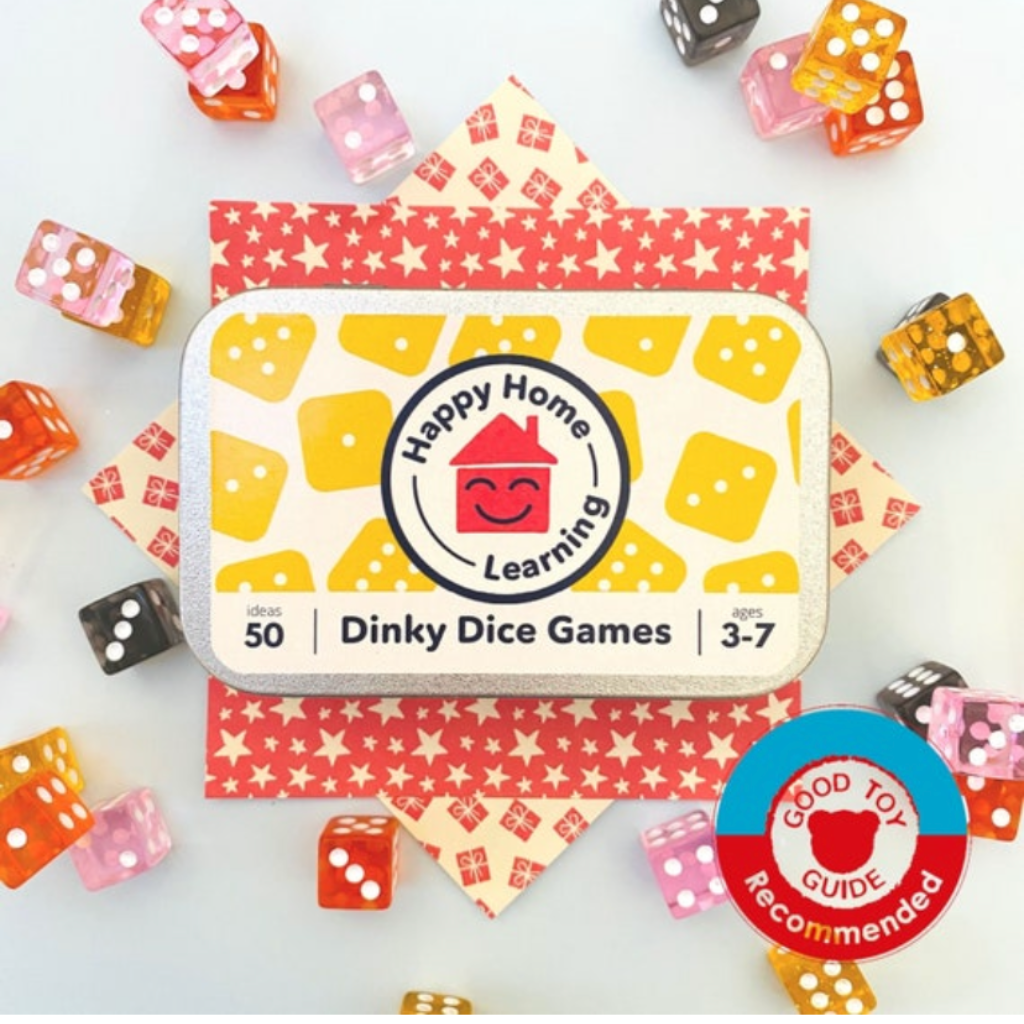 Free P&P within the UK for orders over £22
Fun and educational family maths games for children aged 4-7.

Discreetly colour coded for Reception, Year 1 and Year 2, in a pocket-sized travel tin, designed to last for years.

What should my child know? How do you make maths fun?
Maths needn't be a chore! Banish boredom and play these games to help your child learn without them even realising! Use these quick revision cards to build confidence, independence, and motivation by ensuring just the right level of challenge.

Simply select from the discretely coloured cards that best meet your child's needs and enjoy learning together straightaway! They are perfect for helping young siblings learn playfully together!

And they make a fantastic alternative to worksheets and screens! Simply whip them out of your bag or cutlery draw for 5 minutes of revision before tea or keep in your bag for your travels.

These games are also popular with even younger children and the addition of more dice will help offer greater challenge as your child grows older.
Why buy 1 maths game when you can buy 50 to keep learning novel instead?
Includes:
16 Reception activity cards
18 Year 1 activity cards
16 Year 2 activity cards
Tin dimensions: 96mm x 59mm x 21 mm

Better still, you can store this perfectly portable, dinky product without causing your cupboards to burst at the seams!

* 50 playful activities - to consolidate learning or add the perfect level of challenge
* Supplied with 4 translucent, colourful dice
* Know the national maths expectations for Reception, Year 1 and Year 2
* Confidently support your child and enjoy learning together
* Enable siblings aged 3-7 to learn together or use for years with one child as they grow
* Encourage a positive attitude towards maths
* These novel dice make a lovely stocking filler
* Designed by a specialist teacher/mum with 20 years of expertise, founder of Happy Home Learning UK
* Pair with the book 'One is a Snail, Ten is a Crab' to further support learning the times tables

Accredited by The Good Toy Guide and voted in their top 5 travel toys.

SUSTAINABLE: Printed on FSC certified paper in The Lake District, created for a wide age range, and supplied in a sturdy tin, this product has been thoughtfully designed to last for years

WARNING - CHOKING HAZARD
Small parts - not intended for children under 3 years of age.